Information - Geographic Location
20 km south from VANNES, the peninsula of Rhuys is lying from east to west between the gulf of Morbihan "Golfe du Morbihan" in the north and the Atlantic Ocean in the south.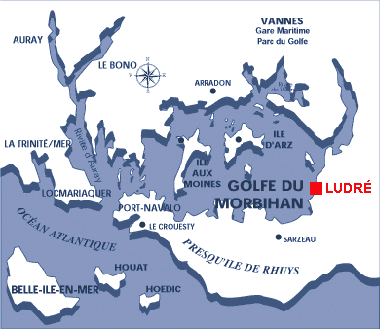 The Golfe du Morbihan (meaning « little sea » in Breton) is almost 20 km long and 15 km wide, it offers a rich ecosystem, with mudbanks and marshes. This coastline profits from a mild microclimate and harbours flora and various migrating birds, that could be observed either from coastal footpaths by cycling or walking, or from the sea by kayaking without making any noise. Do not forget a camera!
Barely 10 km away, there is the castle of SUSCINIO, it was the Dukes of BRITANNY residence, used as a resort at those times. This castle, with its fortifications has been remarkably restored. The monument is surrounded by marshes, and is really worthwhile. Not far from there, you will find the sandy beaches of PENVINS, ST GILDAS, or further DAMGAN and PORT-NAVALO.
3 km from your stay, you could discover the TASCON Island, that is reachable from SAINT-ARMEL at low-tide by walking.
15km away there is the cape of the peninsula called PORT-NAVALO, with its deep water harbour Port du CROUESTY. These spots are pleasant places for wandering, specially the lighthouse promenade along the entrance of the Golfe du Morbihan, where the strongest tide stream in Europe gives so strange water effects at sunset. During the touristic season, you can reach and visit the islands of BELLE-ÎLE, HOUAT, HOEDIC and the Golfe du Morbihan from the PORT-NAVALO harbour.
Here below it shows you how yo go there: